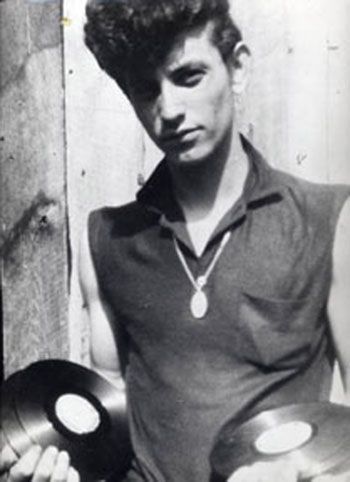 Hasil Adkins plus a lot more rockin music on tonight's Galaxy Girl.
You can catch a documentary about Hasil during the James River Film Festival.
My Blue Star: The Life And Hunchin' Times of Hasil "Haze" Adkins
(2009, 75 min.)
with director Ron Smith
12:00 midnight, The Byrd Theatre
(Also screening Saturday, April 18)
PLUS!
Liz Humes talks with "My Blue Star" director Ron Smith on "Wordy Birds," Friday at NOON on WRIR 97.3 FM and at wrir.org.
Thanks for listening!
podcast available at [url=http://www.radio4all.net/index.php/program/32965]http://www.radio4all.net/index.php/program/32965[/url]
ARTIST / TITLE / ALBUM
Lynn Ahrens / Interplanet Janet
Hasil Adkins / Ha Ha Cat Walk Baby / Out To Hunch
Hasil Adkins / Chicken Walk / Out To Hunch
Mad Juana / Keep on Walking
Mr Lewis and The Funeral 5 / Black Coffee Night
The Invisible Surfers / Stabs 'n' Hugs / Waves Of Reverb, Sea Of Fuzz
Cub / What the Water Gave Me / Betti-Cola
Volcano Suns / Nature and Me / The Bright Orange Years
Enon / Paperweights / Grass Geysers...Carbon Clouds
Casiotone For The Painfully Alone / We Have Mice / The First Two Records On One CD
The Rondelles / Drag Strip Race / Fiction Romance, Fast Machines
Dengue Fever / Clipped Wings / Venus on Earth
Shop Assistants / Somewhere In China / Anthology 1985-1986
Mates Of State / My Only Offer / Re-Arrange Us
Heavenly / Our Love Is Heavenly / Heavenly Vs. Satan
caUSE Co-MOTION! / Only Fades Away / It's Time!
Thee Minks / Shut Up And Kiss Me / Are You Ready Now?
Ramones / I Want To Be Your Boyfriend / I Hate CD's: Norton Records 45 RPM Singles Collection Vol. 1
The Muffs / Beat Your Heart Out / Hamburger
Thee Headcoatees / Don't Wanna Hold Your Hand / Punk Girls
The Rondelles / Fake Fight / Fiction Romance, Fast Machines
The Cramps / Bikini Girls With Machine Guns / Stay Sick!
Hasil Adkins / The Hunch / Out To Hunch
Hasil Adkins / She Said / Out To Hunch
The Ting Tings / Fruit Machine / We Started Nothing
Les Handclaps / Cacti Are Delicious Fruit
Papas Fritas / Hey Hey You Say / Helioself
Thao with The Get Down Stay Down / Beat ( Health , Life, and Fire ) / We Brave Bee Stings and All
Big Mama Thornton / Hound Dog / Ball N' Chain
The Shangri-Las / The Train From Kansas City / Greatest Hits
Les Sexareenos / All the Kids / 14 Frenzied Shakers
5.6.7.8's / Bomb The Twist / Bomb The Twist
The Wedding Present / Brassneck (Live) / Singles 1995 - 1997
Go Sailor / Fine Day For Sailing / Go Sailor
April March / Temps de l'Amour / Chick Habit
Satan's Pilgrims / The Godfather / Plymouth Rock
Lyres / Busy Body / Some Lyres
Gitogito Hustler / Hyper / Gitogito Galore
The Black Hollies / Paisley Pattern Ground