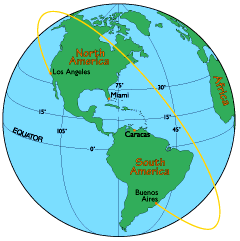 I haven't really circled the globe in a while, and there's a bunch of world music that I've been itching to hear, so make sure your seat belt is tight, and remember that your seat cushion can (in case of an emergency) be used as a floatation device.
This is my last official show in this slot, so thanks to everyone who's been staying up late with me.
Be sure to tune in Thursday nights from 11pm to 1am to hear me in my new time slot.

Thanks for listening, and enjoy the ride.
Artist / Title / Album
Lynn Ahrens / Interplanet Janet
Jorge Ben / Ponta De Lanca African (Umbabarauma) / Beleza Tropicale
Do / Los Dos Lados
Ghetto Brothers / Viva Puerto Rico Libre / Power: Fuerza
Gogol Bordello / Forces of Victory / Super Taranta!
Corey Harris / Afrique (Chez Moi) / Zion Crossroads
Nusrat Fateh Ali Khan / Dam Mast Qalandar In Concert
Chris Stamey with Yo La Tengo / V.O.T.E / In Radio 10
Cheb I Sabbah / Haun Vaari Haun Varaney / Devotion
*NEW* Group Inerane / Kuni Majagani / Guitars from Agadez
Ferus Mustafov / Bagpipe Dance / Legends of Gypsy Music from Macedonia
Fafi / Wantchito / Chenzira/Wantchito
*NEW* Issa Bagayogo / Fimani / Mali Koura
*NEW* Chiwoniso / Matsoti / Rebel Woman
Dengue Fever / Seeing Hands / Venus On Earth
The Drastics / Strikeback / Waiting
Cafe Tacuba / Cierto O Falso / Sino
*NEW* Orlando Julius and His Afrosounders / My Girl / Vampisoul: Afrobeat Nirvana
The Dynamics / Whole Lotta Love / Version Excursions
*NEW* DubXanne feat. Earl 16 / Message In A Bottle (Message In A Dub) / Police In Dub
*NEW* St. Maarten's The Rolling Tones / It's a Feeling / Calypsoul 70: Carribean Soul & Calypso Crossover
*NEW* Bio Ritmo / Bionic Boogaloo / Bionico
Los De Abajo / The Lunatics Have Taken Over the Asylum / LDA v. the Lunatics
*NEW* Sir Victor Uwaifo / Igoboroho / Guitar Boy Superstar 1970-1976
Orquestra Riverside / En Casa Del Trompo No Bailes / Si Para Usted: The Funky Beats of Revolutionary Cuba
*NEW* Carla Bruni / Raphael / Acoustic France
Tabu Ley Rochereau / Success African Jazz / The Voice of Lightness
Shantel / Disko Boy / Disko Partizani
*NEW* La Chenga / Rembetiko 22 / Fake No More
Bob Marley & the Wailers / Rainbow Country (DJ Spooky's Subliminal Funk remix) / Roots, Rock, Remixed
Mexican Institute of Sound / A Girl Like You / Pinata
Jay Mitchell & the Mitchellites / I Am the Man for You Baby / Cult Cargo: Grand Bahama Goombay
The Pinker Tones / Sonido Total (remix by Concorde Music Club) / More Colours!
David Krakauer / Bubbemeises / Bubbemeises
Simon Ritchie / Anarchy in the UK / Squeezebox Schizophrenia
Balkan Beat Box / BBBeat / Nu Med
Bob Brozman Orchestra / Bamako Blues / Lumiere
King Selewa & His Calypsonians / Calypso Invasion / Calypso Invasion
Lito Barrientos y su Orquestra / Cumbia En Do Menor / Colombia!
Podcast is available at
www.radio4all.net/index.php/program/29593